Gold Coast Vacation & Real Estate Directory
A Guanacaste guide & marketing tool for small business and property owners
The northwest coastline of Costa Rica is often referred to as the Gold Coast. This stretch of land in northern Guanacaste is revered for its beautiful beaches, dry tropical forests, five-star resorts, quaint boutique hotels, gastronomic variety, world-class waves, and adventure tourism. In the late 1980s, Costa Rica became a popular nature tourism destination, and its main competitive advantage is a well-established system of national parks and protected areas, covering around 23.4% of the country's land area, the largest in the world as a percentage of the country's territory, and home to a rich variety of flora and fauna, in a country that has only 0.03% of the world's landmass, but that is estimated to contain 5% of the world's biodiversity. Located in the far northwest corner of Costa Rica, Guanacaste's geographical features are diverse and exotic. With endless options for recreation, there are countless reasons why locals and international visitors alike travel to Guanacaste.Of all the destinations in this beautiful country Tamarindo has evolved into the country's number 1 tourist destination and jumping off point for every type of tourism imaginable given the diversity of life in this one of the worlds last dry tropical rain forests. A truly unique micro climate in a country with 5 distinct micro climates. By comparison all of North America contains only 2 micro climates in a much vaster land mass. From Playa Panama in the upper north west of Guanacaste to the southern Guanacaste beach of Playa Bongo , the many beach towns on this stretch of coast  are easy to fall in love with and many remain relatively untouched offering opportunities for lifestyle change, exploration, or both. The admitted nexus of the Gold Coast Nature, adventure, wellness, nature, and Eco Tourism  and the entire country has become Tamarindo beach, well known for its surfing, bohemian vibe and ever increasing culinary opportunities. Playa Tamarindo remains relatively unspoiled due to its unique geography and strong conservation practices. One thing to remember Tamarindo's long term evolution and popularity stem from one seminal fact that has attracted the type of people invested in guarding its unspoiled beauty. That's right, great waves suitable for expert and beginner alike and a persistent solid right break year round is what has attracted surfers from all over the world who visit  then  try to figure out a way to stay and make a life here, resulting in a pretty cool community who live, work and surf every day. Pretty nice!
Start your  Costa Rica Vacation in Tamarindo
As Tamarindo's popularity has soared and the Ex Pat community has expanded in surrounding towns and villages, so too  have the culinary and lodging possibilities  improved immensely. So today I thought we could walk out of your Tamarindo Hotel and duplicate  my favorite way to spend the day on Playa Tamarindo. 
Let's assume that your Gold Coast beach has started with a Tamarindo beach front Vacation rental or  one of many Tamarindo lodging options. You will not have to go far to explore some very cool hideaways and special places within walking distance from Tamarindo center. From there we will work our way farther afield and get into some serious exploration and some truly wondrous and beautiful finds only a modest drive  or scooter ride from Tamarindo.
Depending on what kind of day you are in the mood for you can head either north towards Playa Grande and the Tamarindo estuary or south towards the  entrance to Playa Langosta estuary. Either direction will work no matter if exploring is your desire or a 4 star dining experience is more your speed. Crossing the estuary  to Playa Grande on one of the small panga boats 
that hover there and charge a buck or two to cross opens up a very beautiful walk along the beach side (great shell hunting) or  the ability to work your way through the beautiful paths that cut through the mangroves and come to the Playa Grande beach road. At the very end of this beach road where these paths will lead  is a sleepy beach hotel that I always liked. Once you find the caretaker they are always happy to dig out a cold Pilsen to enjoy by the pool. Quiet and beautiful. Of course, you can also enter from the beach side or continue down the beach.
A word about the Tamarindo estuary
 Spreading our blanket next to the estuary and enjoying the shallow rushing water used to be one of  our Friday go tos. Usually with a nice bottle of French wine at El Cocodrillo just up the path to finish.  Turns out el Cocodrillo is aptly named as in recent years the tourist habit of feeding the Crocodiles (Cocodrillo in Spanish) has created a situation where the animals have come to associate humans with food . This unfortunately led to a few humans becoming food.  Swimming across the estuary as I've done many times is no longer recommended.
Please dont feed Th
e

 

Crocodiles!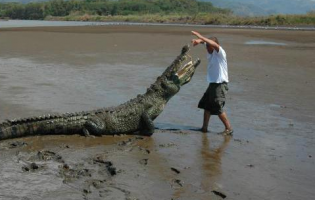 South
Walking south towards playa Langosta is worth the journey and two features make it so. Just past Nogui's and El Pescador,  two staunch mainstays at the south end of Tamarindo beach, it's possible to come away from the water a bit and walk the natural grassy tree laden paths that constitute the meeting of ocean and  land that remains before the secluded beach mansions and exclusive hotels that dot the beach onwards to Playa Langosta . Pristine. 
LANGOSTA ESTUARY
This estuary provides the egress for all the water that builds from mountain runoff during the rainy season creating  vast swamps that lie behind Tamarindo and Langosta and almost all beach towns in Guanacaste. This makes the mile hike from Tamarindo worth it as the wild life and serene beauty of this  spot is unforgettable and as far as I know, it's still safe to swim there. At least it was safe last time I swam there. If I hear otherwise I'll let you know. So far nothing to report.
Langosta Beach club
 I will admit to being a food snob  and was bereft until Arnaud and his wife took over the Langosta Beach Club. Not only is the food first class the view and ambience elevate this to a World Class destination Yes you might spend a couple bucks but you will be accommodated royally in the poolside cabanas that look like the inside of  a Sultans tent each with an inviting champagne bucket and many culinary possibilities. My favorite kind of place. The food is first class in the French style and the beachfront tables are exquisite for lunch while the kids can surf a few feet away. The club even rents boards. My favorite go to day off here was to drink Heinekens with my buddy Andre at The pool bar and order whatever steak was on special that day. I think the last one was stuffed with goat cheese sorrel and mushrooms and  cooked a perfect black and blue which is next to impossible to get done right here unless a fine cut of beef is used. In this case I believe Arnaud was using Argentine beef. You get the picture. They take food seriously. Best to reserve a space on weekends and holidays if you want a cabana. Ask for Arnaud
El Vaquero
A Friday religion with us.  Sushi and draft beers on the picnic tables behind the Witchs Rock Surf Camp with Lisa and Andre. The house does their own brews and offers a very respectable Indian Pale Ale thats one of my favorites. Watching the surf and beach action with Playa Grande sweeping off into the distance is a great way to spend a Friday afternoon. Plus the sushi is awesome. A don't miss  spot.
Laguna del cocodrillo
Usually a solo adventure with a book for me or occasionally with my girl.  Coincidentally the French  bakery and kitchen is run during the day by the mother of Arnaud ( of Langosta Beach Club) and she keeps a solid   affordable wine list and Panini menu and a few french stand by lunch entrees to enjoy at the quiet back tables overlooking the portion of the estuary where they used to feed the Crocodiles. The Crocs have fortunately moved further into the estuary and we no longer feed them. Right? This is one of my true favorites for a quiet beach day and I highly recommend it. 
Playa Grande
Grande is next door to Playa Tamarindo but it's a big beach and easily accessible from Tamarindo beach. I'd recommend coming at it by vehicle although  I have done a few entire days there on the hoof exploring and that's wonderful too if you like a lot of exercise. There are lots of small beach hideaways where you can park your vehicle  and wile the day away without seeing another vehicle. Playa Grande is considerably more laid back and lightly developed compared to Tamarindo. The long beach road that traverses the length of Grande is bordered on one side by the estuary where locals have homes with small docks that ply the canals of the estuary. It's a cool ride and several pocket communities have sprung up back there. Lovely and quiet with a few hidden jewels
Los Baulas national  park
As you wind your way north along Grande you are in this park which protects the area. There are a sparse few beach homes at this end as most building has been tied up in international court for years. Driving to the very north end offers several little hideaways for your 4 wheel drive vehicle that bring you right to the beach without doing harm. If nobody beats you to it you can enjoy a full day with the beach to yourself except for a few intrepid souls  like me that walk the whole beach from Tamarindo. So private that it's a favorite spot for nude sunbathing. Also a great spot for surf fishing when the estuary releases, also body surfing, and as I mentioned; Private.
The Great Waltinis
Talk about private this is one you can get lost trying to find driving. Better you grab a panga  at the Tamarindo side, they will take you right to the dock up the estuary a bit. Great way to spend a day at a nice pool.  Restaurant has typical food and a full bar for cocktails with real glasses.
Los Tortugas
This sleepy  hotel sports a lot  of potential diversions my favorite being the restaurant on the second floor of the hotel  that overlooks the  sparse beach trees and the surf. The setting is unique and  rustic with a fine display of how the indigenous people use  the Impressive native hardwoods. Breakfast here for me was a delightful treat and the fare, like the design, is true  Guanacasteco. The second story beach view and ambience makes this worth the visit However even though its quiet they has a lot of tables and chairs ready. Good for big groups although I have never seen one there. The restaurant services the downstairs pool area that sports a few deliciously deep hammocks and a pretty  path to the beach. Don't miss the hidden heated Jacuzzi tucked into a lush corner of the pool area great chaise lounges and tables by the pool make this a great place to pass a day.  
The beach bar attached to the back of the hotel is a favorite of mine. 5 stools, a great view,  a great bartender, the best burritos in town, not to mention the nicest owner you could meet. A midwest girl that looks like she stepped off the cover of a California surf magazine which is why she's here of course.  A Very nice spot! This is a great walk from Tamarindo just look just behind the wooden lookout tower.
A word about swimming  Playa Grande.
Playa Grande is very rough and tumble  beach with multiple wave directions and rip currents.  That's why its a great surf spot. However unwary often inexperienced swimmers are lost there every year. 
Please be careful!
Great Beach Day trips from Tamarindo
Heading North
So you have found Tamarindo Beach and its a wonderful escape especially if you were expecting a Miami Beach kind of vibe then you were surely pleasantly surprised. But if that was a pleasant surprise you are really in for a treat. Travelling in both directions from Tamarindo offers numerous small beach towns and hideaways and these are just the main beach towns described here. We will be travelling north in this post from the subject of this website, Tamarindo, Costa Ricas most popular tourist destination.If you really jump off the beaten path there are many hidden coves and jewels which I will eventually get to but even these known beach towns retain a sleepy laid back vibe each with their own character and something to satisfy every taste. I will explore some of the truly offbeat places in another post but these will definitely require an intrepid soul and a good 4 wheel drive vehicle. If you can swing it my best suggestion for a vehicle in Costa Rica was a mid 90's Range Rover And even in that beast a few rivers and soft beach sand  occasionally got the best of me. (Picture a heavy duty tow truck backing up 2 miles outside of Tamarindo on a tiny jungle back road one day with my buddy Andre who said zig left when I should have zagged right. Anyway we got free paid the driver a fortune and then I  took him and Andre to El Vaquero for sushi and many many beers. All in all a great day. Range Rovers are the perfect vehicle for sure but lets get this party started. The first beach north of Tamarindo is Playa Grande but its actual name is Playa Zapotal but the slang moniker has won precedence over the years.
Playa Grande beach is miles long of fine, pale sand; perfect for those who enjoy a leisurely beach stroll and a warm ocean breeze. It is important to note that the entire beach coast is protected and belongs to Las Baulas National Park, meaning you must take care with the soft upper part of the beach as it may contain delicate turtle eggs waiting to hatch. Additionally, the beach is off limits from 6pm to 6am October through March to avoid disturbing the unique rhythm of sea turtle lying; the only exception for night time visitors includes a park guide and turtle watching tours.
Playa Grande is packed with tour options and things to do! Explore the 1,500-acre estuary with a kayak and see the variety to mangroves and exotic animals, including aquatic birds and crocodiles that thrive there. Travel to the northern end of Playa Grande to Playa Ventanas and jump into beautiful snorkeling waters. Take care swimming in Playa Grande open sea, as the sea floor does drop steeply and rip currents can be strong.
Playa Conchal is one of the most beautiful beaches in Costa Rica and in a country loaded with beautiful beaches that is saying a lot. Playa Conchal is also the source of one of my giant pet peeves. I lived in neighboring Brasilito beach for years and Playa Conchal was open to 4 wheel drive vehicles and many Brasilito locals plied their wares sold food, beers, tours and even hand made crafts but the owners of Conchal have closed it in recent years making it the exclusive playground for the rich mostly foreigners and basically  screw the locals. Money versus the people who were born there and money won making it a decidedly less interesting place to spend a Saturday afternoon drinking beers and eating ceviche supporting my many Brasilito friends. In case its not clear this pisses me off and only Conchals big bucks pulled this off. You can still walk down there or come in through the resort but prepare to drop some bucks.
Known as one of the most exotic of the Gold Coast's beaches in Costa Rica. Playa Conchal sees some of the best weather all year round. Unlike other beaches along the Pacific Coast, Playa Conchal is not a sand beach, but rather a beach that consists of millions of tiny crushed shells. The beach is no longer accessible by car, so if you want to spend a day enjoying its beautiful shores, plan to park at Playa Brasilito and walk for about 1km to reach the beautiful Playa Conchal! Playa Conchal is home to Reserva Conchal, a luxury 5 Start Marriott Resort Hotel that offers private access to Playa Conchal. 
Playa Brasilito is where I first arrived after my 11 day drive from Boston where I spent several weeks looking for a place. Brasilito is where all the employees of the big Conchal resort live and have small businesses and like many areas just outside of a resort its where the service employees come to unwind after work. Brasilito features a number of hole in the wall bars where the natives congregate and the party is occasionally raucous and always runs late sometime supported with man made jet fuel (If you know what I mean) anyway its lively and fun and the Brasilitenos embraced me once I showed my desire to master the local dialect. The Ticos will not correct  bad Spanish ( they consider it bad manners) unless of course you entreat them to do so which I did with a lot of Pilsen beers and a genuine desire to turn my college French into passable Spanish. An admitted head start.) Once convinced of my sincerity and eagerness to learn I had many willing friends to help. This was not in any way a cultural exercise. I simply wanted to be able to talk to girls. HA!
Close to the town of Tamarindo, Playa Flamingo is the epitome of bliss. The beach truly deserves a spot on the best beaches in Guanacaste. Lying on Costa Rica's popular Gold Coast (which makes up the trio of beaches that include Flamingo, Conchal and Brasilito beaches) Flamingo's white sands and crystal clear waters sees most of its visitors during December and Easter holiday. 
If you're looking for an incredible sunset, Flamingo can provide you with the most serene, fiery sunsets on the Gold Coast. Those who love sportfishing will fall in love with Playa Flamingo. Every July, Flamingo hosts an annual sailfish tournament where you'll find tuna, snapper, sailfish and more!
For those who partake in aquatic activities, Playa Flamingo can provide a variety of ocean excursions for you to enjoy. Scuba diving is offered year-round where the shores are packed with marine life – starfish, coral reef, eels and reef sharks galore. For those who partake in aquatic activities, Playa Flamingo can provide a variety of ocean excursions for you to enjoy. Scuba diving is offered year-round where the shores are packed with marine life – starfish, coral reef, eels and reef sharks galore.
For the nature lovers, check out Santa Rosa National Park, the country's first national park and home to 115 mammal species, 100 amphibian and reptiles, and 250 bird species.
You won't find many amenities near Playa Flamingo as it has no village center. So those wanting a variety of restaurants and nightlife should check out the nearby town of Brasilito. 
Potrero is a hidden jewel in the north-west of Guanacaste, named after the eponymous beach. This rural town embraces the old Costa Rican coast village style and is a tranquil spot away from other touristy places.
The main feature of this town is its inherent and simple beauty. The road remains unpaved because the locals choose it to stay that way; on Sundays you can still see children playing soccer in 'la plaza' and the locals going to church. Hotels or massive developments didn't find their way to the coast line yet, and you can see people lying in a hammock on their own land, just few steps away from the sea– like it used to be in every Guanacaste coast village many years ago.
Although there are several small hotels and villas around with their own facilities, there are only few supermarkets and local restaurants to go to in town.  This is the place for people seeking quiet and relaxing time away from all the maddening rush of the city.
Nightlife goers can find a lot of  great bars and clubs in Playa Tamarindo on the south, and Playas del Coco on the north. Both are within hour or less drive away from Potrero.Unless one considers ladies night at the Las Brisas beachfront bar at the end of Potrero beach
Enjoy swimming, snorkeling or kayaking in three local beaches: Prieta, la Penca and Potrero, perfect for people seeking calm beach activities. Bring your own equipment, as you will not find equipment stores and renting services can be sporadic in the area.
Potrero can be reached both by public bus and by car. It's a 45 min drive from Liberia, Guanacaste's main hub, or  four to five hours drive from San José, but the trip is worthwhile. It can also be a nice place to start exploring the Papagayo Bay and traveling to other famous beaches like Playa Flamingo and Playa Conchal, or visiting Santa Rosa National Park and Palo Verde Natural Reserve that are close by.
---
Services & Infrastructure in Potrero Beach
Public transportation: Yes, there are round-trip buses from Liberia several times a day
Public amenities: No public restrooms
Shopping: Yes, there are several shops
ATMs: Yes
Gas stations: No
WiFi or Internet cafés: Yes, restaurants & bar offer WiFi service
Cell Phone Reception: Reliable
Restaurants: Several 'Tico'  restaurants; those seeking a little more nightlife have Tamarindo and Playa Brasilito just a few minutes away.
Nearest medical facilities: The closest medical facility is Tamarindo.
Playa Danta (Las Catalinas)
3 km (1.85 miles) south of Playa del Coco lies Playa Ocotal, which is known to be one of the cleanest and quietest of Guanacaste's beaches.What's special about Ocotal is the misty air which has been said to be rich in negative ions, which in turn have positive benefits on the people, animals and plants.
If you're looking for a great snorkelling location, Playa Ocotal is it. Because of cleanliness of the beach and the crystal clear waters, Ocotal offers great swimming and snorkelling. Here you will most likely be able to spot schools of fish, giant manta rays, turtles and even sharks.Close by you can explore the Catalina Islands which offer amazing scuba diving sites for the avid diver.
Playa Papagayo (Lanzarote)
In the south of Lanzarote is one of the most popular beaches of the island, Papagayo, a cove of white sand, reduced size and great beauty. In the shape of a bay or shell (some locals prefer to call it the latter), Papagayo wins you over with its crystal clear, emerald green water which remains still all day long just like in a swimming pool. It's perfect for taking up snorkeling and for enjoying the beauty of its depths or for letting the children splash about without having to worry.
Enjoy the Natural Monument of Los Ajaches
Situated in a hollow, which you can get to in just a few minutes by going along a track, it is in almost untamed surroundings but is well sheltered from the wind. In spite of where it is located, in the Natural Monument of Los Ajaches, there is a small beach bar on the hillside where you can buy drinks or have something to eat. The best time to enjoy it is evening time. It should be said that access to the area for vehicles is not free of charge and there is a car park and camping area nearby.
Playa Hermosa is one of the more popular beaches in the North of Guanacaste. This is the type of beach to escape to if all you want to do is get some much needed R&R.Hermosa means 'beautiful' in Spanish, which is a no-brainer to describe the beauty of this aquatic gem. Although located between Playa del Coco and Playa Panama, Hermosa doesn't see as many crowds as its close neighbours. Stretching 2 km (1.25 miles) wide, Hermosa boasts plenty of trees for optimal shade.Hermosa means 'beautiful' in Spanish, which is a no-brainer to describe the beauty of this aquatic gem. Although located between Playa del Coco and Playa Panama, Hermosa doesn't see as many crowds as its close neighbours. Stretching 2 km (1.25 miles) wide, Hermosa boasts plenty of trees for optimal shade.
When it comes to sustainability, Playa Hermosa demonstrates high environmental standards and excellent safety facilities, making it a winner of the Bandera Azul or Blue Flag award.
Hermosa has a small selection of dining options for you to choose from, which tend to do be on the higher end in comparison to other spots in Costa Rica.
When it comes to sustainability, Playa Hermosa demonstrates high environmental standards and excellent safety facilities, making it a winner of the Bandera Azul or Blue Flag award.
Hermosa has a small selection of dining options for you to choose from, which tend to do be on the higher end in comparison to other spots in Costa Rica.
Southern Guanacaste Beaches
A Walk on Costa Rica's Wild side
Todays journey begins once again on Tamarindo Beach, Costa Rica's most popular Beach destination and down the Pacific Coast towards the Nicoya Peninsula and Guanacaste's southern zone which offers many flavors of beaches.From the wild windswept turtle nesting beaches of Ostional to the  Health & Wellness rich Nosara and Samara both of which have become meccas for Yoga lodges, wellness retreats and a pronounced spiritual and healing community , Couple that with considerably less developed beach front and a few world class surfing and turtle nesting site beaches, heading south of Tamarindo is really like taking a walk on Guanacaste's wild side.
Tamarindo beach does extend further south if you're walking, melding into Playa Langosta, a sleepy little beach village  featuring a few lovely small hotels right on the beachfront peppered with several rather stunning beachfront Villas and of course The Langosta Beach Club, one of my favorite spots for lunch or dinner or wiling away the afternoon at a table under the palms with several cold Heinekens. I understand that the Beach Club has recently changed management so its hard to say until I revisit if the world class cuisine has maintained the same standards set by Arnaud and his lovely wife. However take heart I just learned that Arnaud has opened the Tamarindo Beach club in the heart of Tamarindo and I cannot wait to get back and sample what I am sure will be a culinary treat.
So trekking to the Southern Guanacaste beaches requires you to jump in the car and come off Tamarindo beach and take the Santa Cruz road heading south. When I arrived 15 years ago this was a rough ride unpaved most of the way and a bumpy  treacherous drive during rainy season but in recent years this road as been paved enabling easy access to this dusty farm land that fronts the southern Guanacaste beaches The first sign of civilization heading south towards Nicoya is Hacienda Pinilla which in recent years has seen many more families residing within its borders and has become a Tamarindo bedroom community for the well to do even though many of the main American schools are a good 20 miles away in Brasilito. Hacienda Pinilla is a huge beach front development that has managed to preserve the untamed backdrop quite nicely and truly has a lot to offer families and vacationers alike principally security and natural beauty situated on one of Costa Rica's most pristine surf beaches. Of course having a championship seaside golf course  helps maintain the property values along with a 4  star hotel. Add a secure beautiful environment and it is  no surprise that many well to do Expat families have taken up residence within its secure gated borders, fostering a rather cool tightly knit family oriented community that still centers the bulk of its daily activity in Tamarindo.
Hacienda Pinilla Golf course looking East away from the ocean
Playa Lagartillo (little alligator)
When it comes to best secret beaches in Costa Rica, Playa Lagartillo is one of them. Even though it's just a few minutes drive from the popular Playa Avellanas, it normally doesn't have more than a handful of visitors, even during the holidays. If you're exploring this area of Guanacaste, then you definitely need to visit Playa Lagartillo!
Map
Playa Lagartillo map

Playa Lagartillo is 83 kilometers (51 miles), a 1.5 hour drive from Liberia International Airport. It is a 40 minute drive from Tamarindo. You can find it on Google Maps and Waze.
It's a 5 minute drive from Playa Avellanas
Playa Negra has always been a pleasant surprise for me and its untamed sleepy quality is always refreshing only a short drive fom the hustle & bustle of Tamarindo. I lend kudos to my buddy Larry Graziano who is not only the real estate master down there but one of the nicest soft spoken men you will have the pleasure to meet. Larry had what I consider amazing foresight and settled his family and business down there way ahead of everybody. Of course Larry was attracted by the great surf which Negra has in abundance. Whether its surfing or the slightly untamed peaceful beauty you wish to experience contact Larry at his Playa Negra Realty office and he will happily show you the way.
Playa Negra, Costa Rica is an excellent beach to stay in Guanacaste for those looking to get away from the commercial beach towns. With sweet surfing waves, a laid back atmosphere and beautiful sunsets, visitors can't go wrong with a few days at the underrated but incredible Playa Negra.
Map
Playa Negra, Costa Rica map

Playa Negra is in the Guanacaste province, 80 kilometers (50 miles) from Liberia International Airport and 246 kilometers (152 miles) from San Jose International Airport. The closest town to Playa Negra is Los Pargos, a very small community.
How to get to Playa Negra in Guanacaste
The best way to get to Playa Negra is to drive as no shared shuttles go there and there is not much around. The road once you exit Route 152 is unpaved with lots of pot holes and is recommended to have a high car.
From Liberia, you will drive towards Tamarindo and continue past towards Santa Cruz on Route 152. You'll turn right at the road to Hacienda Pinilla and continue all the way past Avellanas. You'll see signs for Los Pargos and Playa Negra.
There is one bus that goes from Santa Cruz to Ostional every day at noon and you can get off at Playa Negra.
Parking
There are areas to park, though not a secure parking lot. Make sure to lock your doors and don't leave valuables visible in the car.
4×4?
It is recommended to have a 4×4 for this area, especially if you plan to explore other beaches. This part of Guanacaste is more rural and doesn't have paved roads everywhere.
Swimmable?
Playa Negra is a surfing beach so if you want to swim, be careful. Waves can get big and it's quite rocky.
Negra Beach
Negra in Spanish means black and Playa Negra is certainly a beautiful black sand beach. This beach is extremely rocky so be careful in low tide. It's not the best for swimming but you can dip your toes in!
Since it has so many rocky reefs, in low tide you can walk around the tidepools.
Surfing Playa Negra
Playa Negra's awesome surf break was featured in the Robert August Movie Endless Summer II. The beach has easy access for paddling out (though small take off zone) and very nice, hollow right hand barrels. If you go to surf, high tide is better as low tide exposes the vast rock bottom and is not recommended for anyone. Thanks to the consistent year round waves, pro surfers from all over the world come to surf at Playa Negra and it can get busy during swells.
This surf break is generally not the best for beginners though. It is better to go to Tamarindo to take lessons for first timers or Avellanas or Grande for beginners. However, when waves are small and there aren't any swells, it is possible for beginners.
Playa Negra Hotels
There are not that many accommodation options in Negra but there are a couple of hotels. Hotel Playa Negra is the only beachfront hotel with bungalows, a restaurant, pool, yoga studio and a rancho. Some other hotels are the Cafe Playa Negra Hotel and Restaurant and Playa Negra Surf Lodge.
Playa Negra is a great beach for a day trip or for a few days. Surfing is the main activity and you'll see locals and tourists out there every day catching waves. If you're not a surfer, unfortunately the beach is not the best for swimming but you can sunbathe, relax, have a drink on the beach and just soak up the sun.
Playa Negra is also close to many other beautiful underrated beaches such as Junquillal, Marbella, Callejones, and San Juanillo. Keep going down south and you can visit Ostional Wildlife Refuge and Nosara. Go up north and you're so close to Marino Las Baulas National Park. Both Ostional and Marino Las Baulas are amazing places to see turtle nestings.
Even though Playa Negra feels like a worlds away, it's still close to the developed beach towns up north so you have it all. Remote, quiet and beautiful beach but a short drive to tourist amenities and services.
Playa Marbella, Costa Rica (Playa Frijolar)
Although it may seem like Guanacaste beaches are very touristy, there a plethora of beautiful under the tourist radar beaches to discover. One of those beaches is Playa Marbella, about one hour south of Tamarindo and 30 minutes north of Nosara.
It's a great surfing beach and for anyone looking for a off the beaten path beach to visit for a day. Although locally known as Playa Marbella, the true name of this beach is Playa Frijolar.
  M phenomenon and instantPlaya Junquillal is one of the beaches I visited on my very first visit to Costa Rica in 2002. I stayed in Tamarindo on that trip  as well as La Fortuna and Quepos before passing my first and last night at the Hemenway Inn in San Jose. That day I rented a scooter in Tamarindo and took to the dusty roads in exploration and ranged from Playa Junquillal to check on my good friends at the Land Ho restaurant as the proprietors own my favorite watering hole of the same name in Orleans on Cape Cod  and where I had some of my first serious conversations about Costa Rica. My friends had discovered Costa Rica and were quite obviously in love with the place tantalizing my intrigue and desire to explore. However I am certain that the scooter ride that day in that land where time  stood still is what captured my heart and whether I knew it at the time or not my every waking moment upon return from that first trip were lent to devouring everything I possibly could about a country I had clearly already accepted on a subconscious level would be my new home. The more I learned about Costa Rica's commitment to ecological preservation coupled with the astounding variety of wildlife and micro climates  coupled with sublime natural beauty continually served to reinforce this growing love at first sight phenomenon and instant adoption of what would soon become my new home.  One must understand that growing up on Cape Cod which I can only describe as the most magical place on earth makes any place contending for my affection  needs to approach an almost mystical level and which clearly speaks to my soul Iam most fortunate to have discovered two such places in one lifetime.
                                                                                                          Land Ho Junquillal
Land Ho Orleans Cape Cod